We are happy to introduce our latest AerOceaNetwork (AON) member office in Amsterdam, Netherlands 
Global Freight Management B.V.
Boeing Avenue 215
1119 PD, Schiphol-Rijk
Amsterdam, Netherlands
Tel: +31 20 2616 422
Website: https://aeroceanetwork.net/company/global-freight-management-b-v/
Contact: Robert Jagtman – Sales Manager
Global Freight Management BV (GFM) provides a highly efficient solutions for all your logistics, supported by the preferred carriers and their strong world-wide networks. Their team of experts, with more than 25 years of freight forwarding experience, evaluate your cargo details, deadlines and budget, to advise you with the most appropriate cost-effective movement.
GFM, as Ocean Transportation Intermediary are positioned to handle all aspects of your shipments throughout their supply chain.
GFM offers a full range of ocean related services including FCL and LCL container management, Ocean forwarding, consolidation, Loading & unloading containers, project cargo.
GFM Airfreight office is located at Amsterdam Schiphol airport (AMS), The Netherlands which is one of the major European gateways.
GFM is your (IATA) partner for all your regular airfreight, time critical, Dangerous Goods (Cat. 6 certified) and oversized cargos. Clear and fast communications is key in airfreight traffic!
GFM can arrange all your Customs clearance or Fiscal representation formalities to provide a smooth handling of your import & export shipments.
GFM offers complete warehousing and distribution services for all kind of products, while specializes in handling semi-conductor and electronic components, finished and work in progress goods within the automobile chemical and garment industries. Pick & pack, repacking, palletizing, and labeling. All within our own modern warehouse facilities in NL (27.000m²) & UK (15.000m²).
GFM Transport division offers daily reliable domestic and European trucking and Distribution services. Their dedicated trucks are the newest trucks to save Co2 and all have permits to drive dangerous goods and high value cargo. The team is available 24/7 to deliver your cargo across Europe and United Kingdom.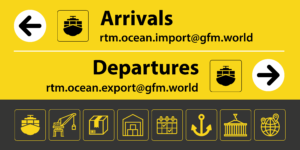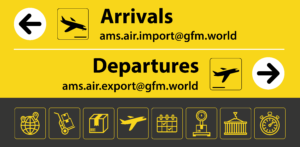 We welcome Global Freight Management B.V. to the AON team!