Project Details:
POL: PTSC Sinh Vu Port, Hai Phong
POD: Manzanillo
Commodities:  Steel structure (main beams for machine x 4 units)
Total: 4 X 40FR // 91.250 KGS
Dimension: (LxWxH): 13.5 x 2.3m x 2.5m each
Each Steel structure was lashed/ secured from its lashing points to the lashing points of the container by 18 wire ropes Ø16 mm which were reinforced by 18 turnbuckles Ø20mm and 18 shackles Ø16mm along 04 sides of the container.
The wood wedges were used under the machine to prevent the machine from sliding longitudinally. All wire ropes were stretched by turnbuckles with allowable level.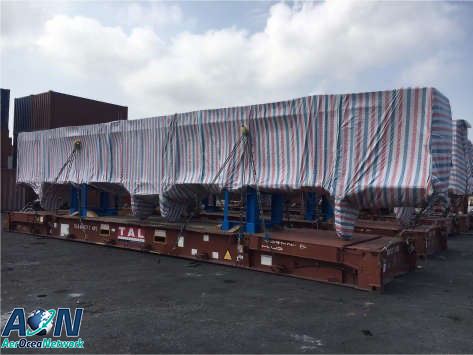 Would you like to see what our members are currently up to?
Follow us and engage us on:
LinkedIn: https://www.linkedin.com/company/aeroceanetwork-aon
Facebook: https://www.facebook.com/AerOceaNetwork
Twitter: https://twitter.com/AerOceaNetwork
Instagram: https://www.instagram.com/aeroceanetworklogisticsnetwork