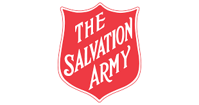 As the rest of Australia and the world watched on, Across the Ocean Shipping and their staff were devastated to see the destruction as hundreds of bushfires destroyed lives and large regions of Australia. Across the Ocean Shipping couldn't stand by without contributing to the rebuild, with the help of our network partners, they were able to make the following donation.
Record breaking temperatures and months of severe drought had fueled a series of massive bushfires across Australia in the summer of 2019/2020. People's lives, properties, animals and communities have been lost and damaged, although the area of Richmond where our Melbourne Office is located has not been directly affected by the bushfires, they have seen the plumes of smoke travel hundreds of kilometres blanketing the city causing the air quality to become hazardous. During the month of January, Across the Ocean Shipping decided to donate a percentage of all bookings made to The Salvation Army. The Salvation Army is actively supporting those affected by bushfires.
Across the Ocean Shipping would like to thank all their clients and agents who have booked shipments with them for making this donation possible.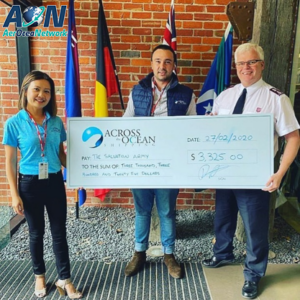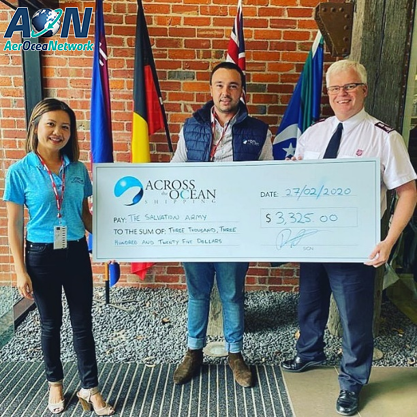 Phyny Tran and Ben Jackson from Across the Ocean Shipping were proud to present a donation of $3,325.00 to Lt-Colonel Neil Venables – the Secretary of Communications at The Salvation Army.
Would you like to see what our members are currently up to?
Follow us and engage us on:
LinkedIn: https://www.linkedin.com/company/aeroceanetwork-aon
Facebook: https://www.facebook.com/AerOceaNetwork
Twitter: https://twitter.com/AerOceaNetwork
Instagram: https://www.instagram.com/aeroceanetworklogisticsnetwork