Ata Tucer CEO ANS Cargo on the Development of Turkey Market 2018
Last Year Developments:
Last year was a very moving year for Turkey on both politics and economics issues but the main issues worth mentioned are the World economic warfare, Turkey – US politic situations and currency crisis.
1- World Economic Warfare:
On 8 March 2018, USA started to apply additional import duty between 10% – 25% to the commodity of Steel and Aluminum imported from Turkey. The Turkish government responded on 21 June 2018 and declared additional duty between 20% – 140% to the American origin Coal (10%), paper (60%), walnut – almond (20%), tobacco (60%), rice (50%), whisky (140%), automobile (120%), cosmetics (60%), machinery and accessories (10%) and petrochemical (50%).
2- Politic Situation:
Since before, there was ongoing political problems between Turkey and US about regional problems (Syria, Iraq, Iran) but the new problem arose after the Turkish government arrested Pastor Andrew Brunson, a US citizen. He was later released on October 2018, however with these controversies combined resulted in a currency crisis in Turkey.
3 – Currency Crisis:
In the beginning of 2018, the currency rate was around 1 USD to 3.80 TL but due to the above reasons the Turkish Lira had raised dramatically to over 7.00 TL by end of August 2018. The Turkish government then started to apply immediate precautions and succeeded to reduce it at between 5.20 – 5.50 fractionally. In summary, these consequences resulted a 41% increase to the US dollars and a 20% to the yearly inflation rate.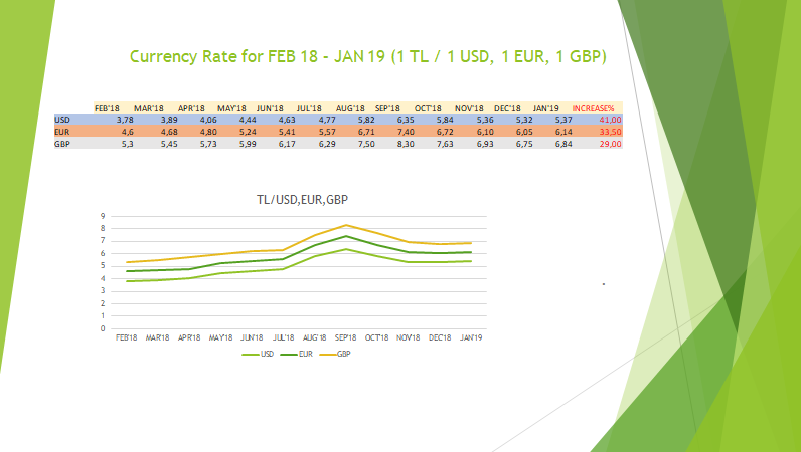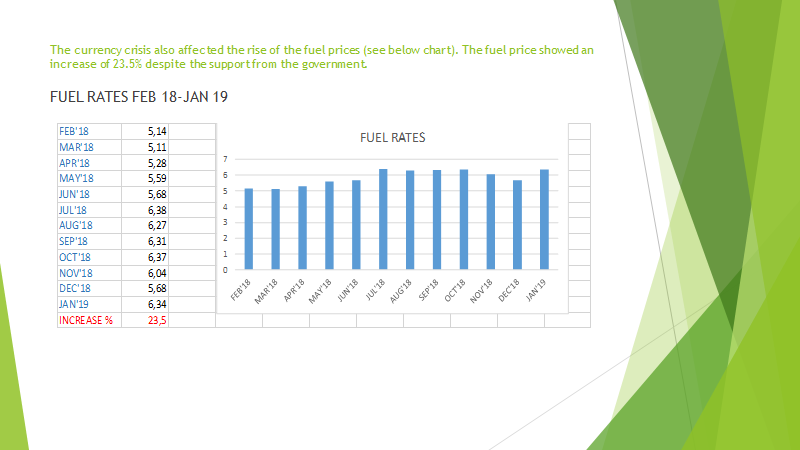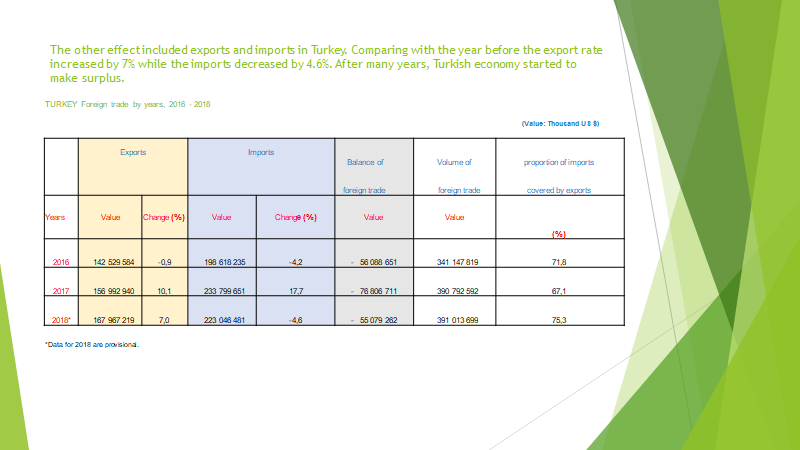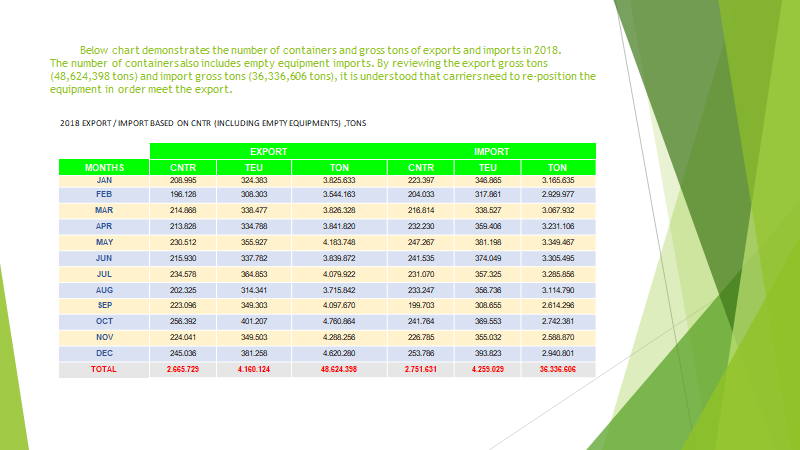 What Above Situations Result In?
1- All shipping lines started to apply Equipment re-positioning surcharge (name may change from carrier to carrier) starting from last November. Carriers applied between USD 50 to 100 per container.
2-Due to an increase in exports, carriers started to face space problems. Many carriers have already closed the vessel.
3- Equipment shortage and space problems enable carriers to increase in the freight rates. Many carriers increased their rates considering from volume and destination. The freights increased by 15% – 20% in the last year.
4- The majority of imports from Europe countries to Turkey were by land freight. The decrease in imports resulted in empty truck congestion and export rates increased by 30% – 40%.
Prospects:
Many analysts are expecting economic recession on Turkish economy. Currently, it is stable, and the market will be closely watching the election which will take place on 31 March 2019. There is no clear prospect after an election, but expectations are the currency and fuel costs will increase even further and this will affect additional increase in shipping costs.
The central bank of Turkey is forecasting the currency level at about 6.18 TL /1 USD by end of 2019 while the market forecast is much higher which is about 7.00 TL / 1 USD. If equipment shortage and space problems continue, carriers may also apply Peak season surcharge during high volume seasons between June to September.
Would you like to see what our members are currently up to?
Follow us and engage with us on:
About AerOceaNetwork (AON):
Since 2002 we have been running AerOceaNetwork (AON). We are a non-exclusive group of like minded independent international freight forwarders who want to excel in their markets. At the same time we are building our good name around the globe. Our global forwarding members meet annually to develop their cargo business pipelines and establish personal ties, which quite often even develop into lifelong friendships – another intangible benefit of joining our group of forwarding professionals.
We target positive people who run progressive international logistics companies for our forwarding network membership. We aim to stick to that membership profile and build on it for the future. Everyone benefits from this.
Before becoming our forwarding network member, prospect applicants are required to provide references of other international freight forwarding agents who they've worked with over time. We check these shipping references for financial ability, operational capability, mutual sales development & follow up, and communication skills (both in ability as well as response time) as well as other pertinent information. Only companies who pass this process can be offered membership in our group.