Open Sky Logistics located in Casablanca contacted Globalcare Logistics head quartered in Atlanta GA to assist them with the shipment of 10 live Falcon Birds of prey. The Falcons were bred in the USA and were ordered for the Emirates of Abu Dhabi Crown Prince Court.
They started their journey on a charted flight from a local airport near their habitat for a short journey to New York, where a dedicated vehicle met the charter before transporting the birds and their breeder for inspection at US Fish & Wildlife. After being cleared by US Customs, they were immediately transported to the carrier Royal Air Morocco to board a direct flight into Casablanca that evening.
With guidance from the supplier on specific handling and care for the birds , constant communication between Globalcare and Open Sky on the time defined coordination of the move, the birds were moved without a single delay and the move was a complete success with all parties being very happy with the project!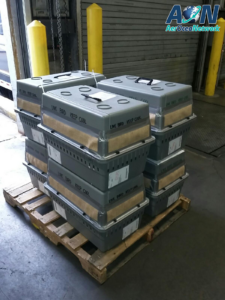 Would you like to see what our members are currently up to?
Follow us and engage with us on:
About AerOceaNetwork (AON):
Since 2002 we have been running AerOceaNetwork (AON). We are a non-exclusive group of like minded independent international freight forwarders who want to excel in their markets. At the same time we are building our good name around the globe. Our global forwarding members meet annually to develop their cargo business pipelines and establish personal ties, which quite often even develop into lifelong friendships – another intangible benefit of joining our group of forwarding professionals.
We target positive people who run progressive international logistics companies for our forwarding network membership. We aim to stick to that membership profile and build on it for the future. Everyone benefits from this.
Before becoming our forwarding network member, prospect applicants are required to provide references of other international freight forwarding agents who they've worked with over time. We check these shipping references for financial ability, operational capability, mutual sales development & follow up, and communication skills (both in ability as well as response time) as well as other pertinent information. Only companies who pass this process can be offered membership in our group.