For this shipment the customer requested offloading service only after vessel sailed. The customer was only able provide packing list for cargo details, without any cargo photo nor container loading photo, and they have no idea how the container was stuffed! It was also the first FCL shipment for this consignee so they do not know how to handle it either!
The window they had for this operation was very short! The customs clearance of the cargo was on 6th January and the offloading had to be done on or before 7th January so that the container returns from the Nepal border on the Jan and crosses a bridge between Nepal India border which was to be closed from 9th to 24th for repairs. If the container was stuck then there were truck detention charges involved and they only had 21 days free time from the carrier for container detention or else container detention per day would have been applied.
The container was not accessible to the offloading location and the cargo was stuffed on 20 ft closed top (GP) container. The two pieces were stacked together!
| | | |
| --- | --- | --- |
| 1 | Iron shelf | 3220×2200×1400mm |
| 1 | Iron shelf | 3200×2280×806mm |
The cargo was sensitive cargo. It was stacked and stuffed on end of the container on a 20 GP container with very limited space which led to the difficulties to offload without any damage. Using forklift/manual labor options was ruled out.
They used lashing best and boom crane to safely pull out the cargo from container without any damage on the container floor/trans loading the same onto a small vehicle.
They took the crane to the offloading location with some civil works on the roads and then finally the cargo was offloaded on the ground as per consignee's requirement safety.
Nepalaya Logistics and Intelligence Freight worked very closely together to make the right decisions and keep all the parties informed. Thankfully, this was successfully concluded and they delivered a value added service.
Project Details:
Details of the load: 1×20'GP
Port of Loading: Shanghai
Port of Discharge: Kolkata
Final Destination: Itahari, Nepal
Container Movement details:
Container discharged at Kolkata: 28th of December 2019
Container moved from Kolkata: 31st of December 2019
Container reported border: 3rd of January 2020 (on weekend)
Cut-off date to meet for Nepal operation: 7th of January 2019 (due to the bridge closure for maintenance on Indian side from 9th to 24th of January the container had to pass the bridge before 8th after delivering the cargo)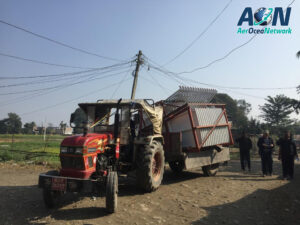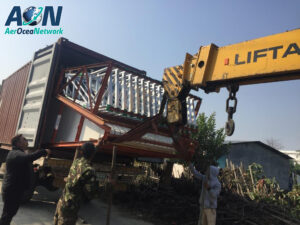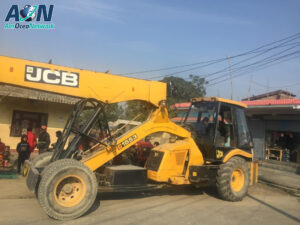 Would you like to see what our members are currently up to?
Follow us and engage with us on:
About AerOceaNetwork (AON):
Since 2002 we have been running AerOceaNetwork (AON). We are a non-exclusive group of like minded independent international freight forwarders who want to excel in their markets. At the same time we are building our good name around the globe. Our global forwarding members meet annually to develop their cargo business pipelines and establish personal ties, which quite often even develop into lifelong friendships – another intangible benefit of joining our group of forwarding professionals.
We target positive people who run progressive international logistics companies for our forwarding network membership. We aim to stick to that membership profile and build on it for the future. Everyone benefits from this.
Before becoming our forwarding network member, prospect applicants are required to provide references of other international freight forwarding agents who they've worked with over time. We check these shipping references for financial ability, operational capability, mutual sales development & follow up, and communication skills (both in ability as well as response time) as well as other pertinent information. Only companies who pass this process can be offered membership in our group.